What is VIRTUALIZATION?
In computing, virtualization means to create a virtual version of advice or resource, such as a server, storage device, network or even an operating system where the framework divides the resource into one or more execution environments. Even something as simple as partitioning a hard drive is considered virtualization because you take one drive and partition it to create two separate hard drives. Devices, applications and human users are able to interact with the virtual resource as if it were a real single logical resource. The term virtualization has become somewhat of a buzzword, and as a result the term is now associated with a number of computing technologies including the following:
Network virtualization is a method of combining the available resources in a network by splitting up the available bandwidth into channels, each of which is independent from the others, and each of which can be assigned (or reassigned) to a particular server or device in real time. The idea is that virtualization disguises the true complexity of the network by separating it into manageable parts, much like your partitioned hard drive makes it easier to manage your files.
Storage virtualization is the pooling of physical storage from multiple network storage devices into what appears to be a single storage device that is managed from a central console. Storage virtualization is commonly used in storage area networks (SANs).
Server virtualization is the masking of server resources (including the number and identity of individual physical servers, processors, and operating systems) from server users. The intention is to spare the user from having to understand and manage complicated details of server resources while increasing resource sharing and utilization and maintaining the capacity to expand later.
Key Benefits of Server Virtualization 
There are many benefits to an IT organization or business when choosing to implement a server virtualization strategy. With the technology we have today, there's no reason to remain idle and simply watch the parade on the sidelines. If you are still waiting to get into the game, here are 10 great reasons why you should be jumping into the server virtualization game with both feet. These are tried and true benefits that have withstood the test of time (in this case, the last 10 years).
Save energy, go green
Maybe you aren't a "save the whales" or "tree hugging" type of person. That's cool. I don't wear the T-shirts either. But seriously, who isn't interested in saving energy in 2011? Migrating physical servers over to virtual machines and consolidating them onto far fewer physical servers means lowering monthly power and cooling costs in the data center. This was an early victory chant for server virtualization vendors back in the early part of 2000, and it still holds true today.
Faster server provisioning
As a data center administrator, imagine being able to provide your business units with near instant-on capacity when a request comes down the chain. Server virtualization enables elastic capacity to provide system provisioning and deployment at a moment's notice. You can quickly clone a gold image, master template, or existing virtual machine to get a server up and running within minutes. Remember that the next time you have to fill out purchase orders, wait for shipping and receiving, and then rack, stack, and cable a physical machine only to spend additional hours waiting for the operating system and applications to complete their installations. I've almost completely forgotten what it's like to click Next > Next > Next.
Increase uptime
Most server virtualization platforms now offer a number of advanced features that just aren't found on physical servers, which helps with business continuity and increased uptime. Though the vendor feature names may be different, they usually offer capabilities such as live migration, storage migration, fault tolerance, high availability, and distributed resource scheduling. These technologies keep virtual machines chugging along or give them the ability to quickly recover from unplanned outages. The ability to quickly and easily move a virtual machine from one server to another is perhaps one of the greatest single benefits of virtualization with far-reaching uses. As the technology continues to mature to the point where it can do long-distance migrations, such as being able to move a virtual machine from one data center to another no matter the network latency involved, the virtual world will become that much more in demand.
Improve disaster recovery
Virtualization offers an organization three important components when it comes to building out a disaster recovery solution. The first is its hardware abstraction capability. By removing the dependency on a particular hardware vendor or server model, a disaster recovery site no longer needs to keep identical hardware on hand to match the production environment, and IT can save money by buying cheaper hardware in the DR site since it rarely gets used. Second, by consolidating servers down to fewer physical machines in production, an organization can more easily create an affordable replication site. And third, most enterprise server virtualization platforms have software that can help automate the fail over when a disaster does strike. The same software usually provides a way to test a disaster recovery failover as well. Imagine being able to actually test and see your failover plan work in reality, rather than hoping and praying that it will work if and when the time comes.
Key Benefits of Virtualization in Data Center
If you're thinking about migrating to a hosted data center or looking for ways to improve your on-premise data center, I have one word for you: virtualization. Offering profound changes to the way data centers perform, virtualization makes sense on multiple levels. Here are 4 key benefits of data center virtualization.
Less heat buildup
Millions of dollars have gone into the research and design of heat dissipation and control in the data center. But the cold, hard fact is, all of those servers generate heat. The only way around that? Use fewer servers. How do you manage that? Virtualization. Virtualize your servers and you're using less physical hardware. Use less physical hardware and you generate less heat. Generate less heat in your data center and a host of issues go away.
Reduced cost
Hardware is most often the highest cost in the data center. Reduce the amount of hardware used and you reduce your cost. But the cost goes well beyond that of hardware — lack of downtime, easier maintenance, less electricity used. Over time, this all adds up to a significant cost savings.
Easier backups
Not only can you do full backups of your virtual server, you can do backups and snapshots of your virtual machines. These virtual machines can be moved from one server to another and redeployed easier and faster. Snapshots can be taken throughout the day, ensuring much more up-to-date data. And because firing up a snapshot is even faster than booting a typical server, downtime is dramatically cut.
Easier migration to cloud
With a move to virtual machines, you are that much closer to enjoying a full-blown cloud environment. You may even reach the point where you can deploy VMs to and from your data center to create a powerful cloud-based infrastructure. But beyond the actual virtual machines, that virtualized technology gets you closer to a cloud-based mindset, making the migration all the more easy.
Check out our infographic: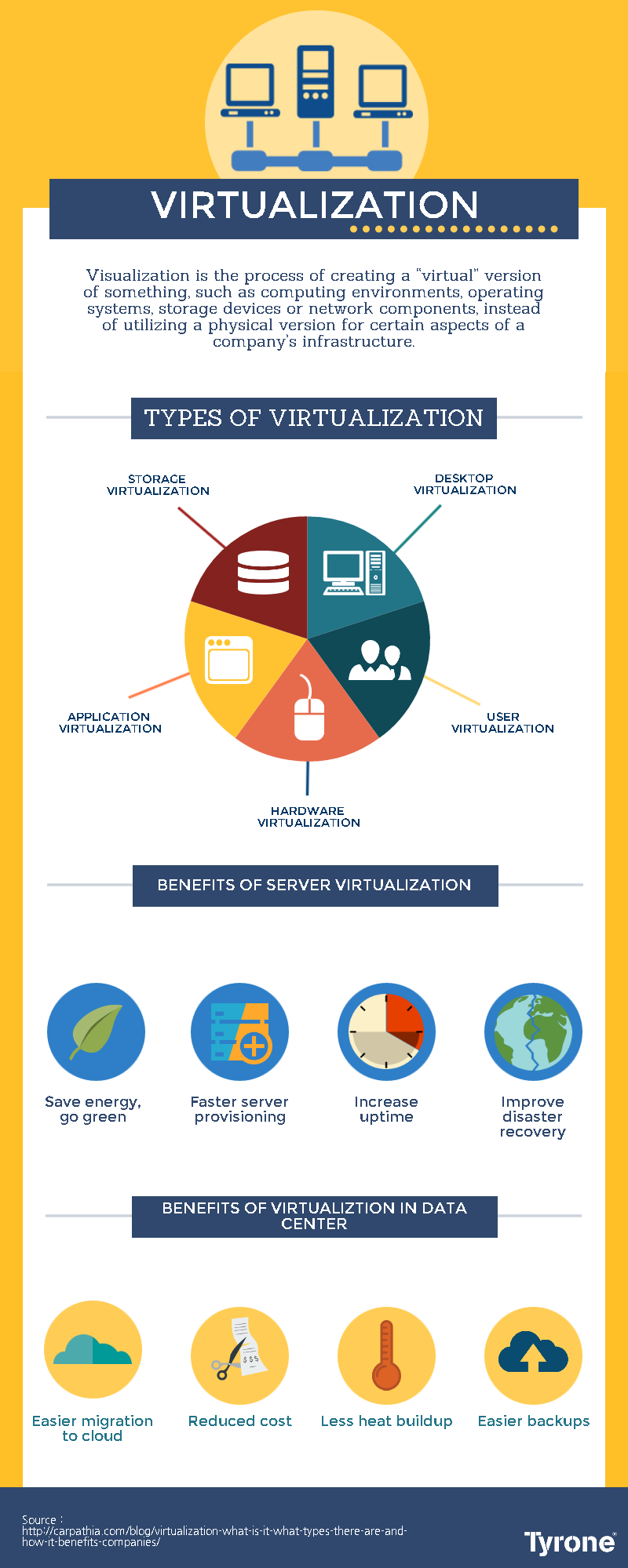 source : http://www.techrepublic.com/blog/10-things/10-benefits-of-virtualization-in-the-data-center/ http://www.infoworld.com/article/2621446/server-virtualization/server-virtualization-top-10-benefits-of-server-virtualization.html