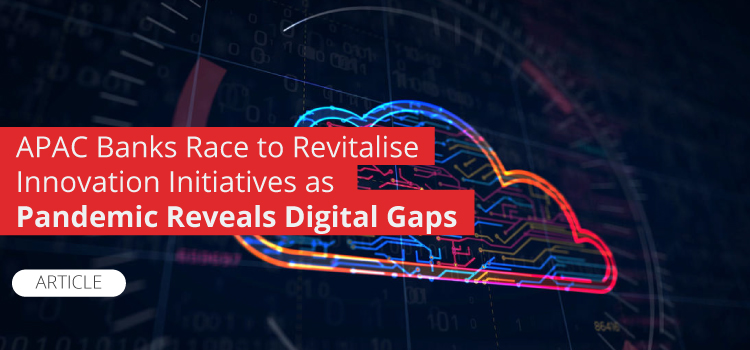 How can APAC banks revitalise innovation initiatives during pandemic?
Disasters, small or large, have the capability to disrupt the status-quo. Be it at a household or at a global scale. The year 2020, witnessed such a disruption in the name of COVID-19 which is a humanitarian crisis, that came along with the social and economic upheaval. It was almost instantly that organisations had to create major shifts in their working culture and had to adapt to the new normal. Initially it was assumed by the world that this shift was short-term, but soon people realised that this pandemic has changed their realities and daily lives. This was more important, especially for institutions that are considered essential services, namely banks and public departments to come up with a scalable and sustainable model.
At first when coronavirus cases were rising across the globe and lockdowns were implemented, grave challenges were posed to the Asia Pacific Banks to continue providing services to a huge customer base. Taking actions, maintaining operations, protecting their workforce and keeping customers aware and satisfied was a daunting task that they successfully managed to keep afloat and running. Their innovative and experimental initiatives amid this serious crisis can be a case study for banks across the world. 
APAC banks focused on three main pillars of survival; Ensure Business Continuity, Being Socially Responsible, Digital Upgradation and Adapting to the new normal. Some of the initiatives are listed below:
Ensure Business Continuity: As the pandemic started to spread swiftly across continents, Asian banks were quick and agile enough to migrate to an infrastructure that did not affect them in the long run. APAC banks were already aware of the digital first wave that every industry across the world were adopting. Being on that path helped them to transition swiftly their operations, likewise mitigating the risks. They prioritised certain departments, identified the issues surrounding, experimented and came up with best possible solutions and designed highly efficient ways of working.

Several financial institutions created a risk-response unit within the C-Suite level and across functions. This unit dealt with queries that required quick response and decision making in the bank. As most of the employees in these institutions worked from home or remotely, Chief Information Officers ensured that digital communication networks were in place, so that employees could easily perform functions staying at home.

Transforming the traditional distribution channels: Due to the huge population concentration of Asian countries, they have thousands of branches and independent distributors. As the disease struck it was very difficult to conduct sales for these distributors due to lockdowns. As a solution, hygiene and safety protocols were put in place in commercial branches and ATM booths. Steps to ensure hygiene was laid down as a campaign for customers. Body temperatures of all people were made mandatory. Medical and sanitisation kits were provided to officials and temporary assessment centres were set up. Working in shifts of 25 people were made mandatory in Indian Banks and allowances were provided for internet and installing other necessary equipment.
Shifting to digital: Banks were forced to transition and adapt digital faster, except few core banking functions, every other function was digitised. APAC banks digitised the KYC norms with help of the regulator by introducing E-KYC for customers, enabled contact less customer engagement, mandated digital signature, ramped up internet and mobile banking systems and upgraded the online documentation process. The integration was made smooth and softwares could work in low bandwidth.
Maintaining liquidity: Savings and lending are one of the two major sources of APAC banks to maintain liquidity. The pandemic had led to a decrease in all of these.

Executives analysed

their banks' position to ensure apt liquidity. This process involved identifying key risks to liquidity from both supply and demand perspectives. Some SWIFT banks developed short-term plans and updated backup plans, created full transparency on liquidity positions, identified major accounts by their quality, and started talking to customers early.

 Depending on the urgency of the situation, some actions included deferring transactions, settling early, and trade compression when necessary; used trading and non-trading assets as collateral; and utilizing support from the government for liquidity infusion.
Revised the short-term business strategy: As the environment changed, banks developed new

strategies considering internal and external challenges. Shift in consumer preferences and affinity towards digital, helped banks to innovate and transition to more robust digital products, especially for elderly and rural customers. Post pandemic working strategy was vital; therefore, HR functions were advised to work around hybrid models of work. Strengthening the data and security systems, reducing real-estate and operational cost to beat losses was of prime importance to banks, which helped them steer smoothly during the crisis.
Many more initiatives were taken by these banks. Banks responded to the coronavirus outbreak decisively. Rapidly actioned and lessened the impact on their businesses and customers. Measures taken by APAC banks will help financial institutions in countries facing the third wave of the pandemic increase their own resilience and minimise losses.